'Nature Fun in the Sun' Explorer Kits Now Available
Jun 6, 2022, 10:57 AM by CCC Staff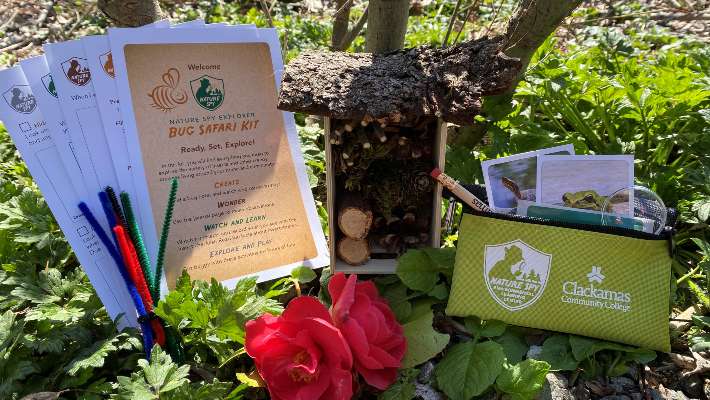 OREGON CITY - The Clackamas Community College Environmental Learning Center is offering a new series of Nature Spy Explorer Kits to keep children busy all summer long.
Nature Spy Explorer Kits are mailed to homes and have all the supplies budding naturalists need to learn, create and play. Engaging crafts, fun facts and playful activities will help them discover the natural world that surrounds them – from the comfort of home and neighborhood. The kits are designed for children ages 4-8, although older children enjoy them, too.
Each kit includes:
Easy to follow instructions
Materials for creating one nature-themed craft
A nature journal page with fun facts
Activities to keep children exploring
A nature guide or storybook
A nature-themed memory card game
Five featured summer Explorer Kits:
Bug Safari Kit: Build a bug hotel and watch who comes to stay! Use the insect checklist to explore the neighborhood for creepy crawlies. Get buggy with activities to learn and play about insects.
Be a Bird Lookout Kit: Make a bird feeder and observe feathered friends. Use the checklist and bird guide to discover the variety of birds in the area. Let imaginations fly with activities for hours of fun.
Squirrels are Everywhere Kit: Make a play dough squirrel with a one-of-a-kind tail. Get outside and play squirrel behavior bingo! Squirrel away some nuts for new friends, and learn more about furry wildlife neighbors.
What's Living in Your Soil Kit: Mix up some mud paint and make messy art. Dig a pitfall trap and see what is caught. Use the Insect Golden Guide to discover the variety of insects in the area.
I Spy a Butterfly Kit: Make a butterfly puddler and watch who comes. Get messy making seed balls to start a butterfly garden. Get outside with the butterfly guide to discover the variety of butterflies in the neighborhood or local park.
Kits are $35 each or $160 for the collector's series (all five) and are now available to order. They will start shipping on July 7. To purchase the kits, visit Nature Fun in the Sun Explorer Kits on Eventbrite.
For questions about the Explorer Kits, email Jill Sorber at jill.sorber@clackamas.edu.
About the Environmental Learning Center
The Environmental Learning Center has a rich history as an educational resource for Clackamas Community College, regional schools, industry and the community. Located on the former site of a Smucker's processing plant, the center was created to demonstrate what people could do to reclaim industrial sites, address stormwater issues and restore wildlife habitats in urban areas. Each year thousands of people visit to explore the 5-acre site and learn about watershed health. The site serves as an important stormwater facility for the college campus and provides critical wetland habitat for resident and migratory birds, such as the great blue heron, wood duck and merganser.