Choosing an Associate Degree That's Right for You
May 20, 2020, 11:14 AM by CCC Staff
Need help choosing an associate degree or program that's right for you?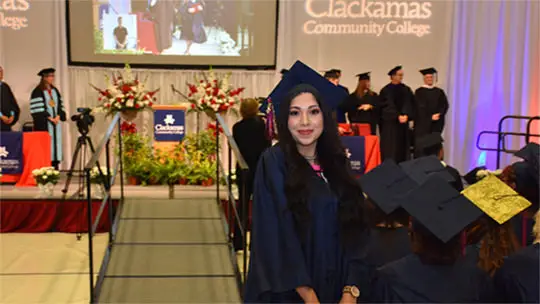 Deciding what to study in college is challenging. If you're a student starting out at a community college, you might be unsure about what associate degree is best for your future. Let's cover some important information and steps for you to consider on your way to earning an associate degree.
What is an Associate Degree?
An associate degree is a two-year degree typically offered at community colleges. Generally speaking, they come in the form of an Associate of Arts (AA) or Associate of Science (AS) degree. Students earn associate degrees for two main reasons:
Transfer to a four-year university (to pursue a bachelor's degree).
Enter the workforce.
Because associate degrees are a fast and affordable way to advance careers — or transfer to a four-year university — they're a very popular degree choice.
Some popular transfer associate degrees here in Oregon are the Associate of Arts Oregon Transfer (AAOT) and Associate of Science Oregon Transfer (ASOT). Learn more on CCC's Degrees and Certificates page.
Uncovering Your Interests
Whether you're coming out of high school or coming from the workforce, you likely have some ideas about the things that interest you.
Start by asking yourself, "What do I like?" On the surface, this question sounds easy. But how exactly do you match that up with an associate degree?
Make a list of things you enjoy doing in your personal life outside of the classroom. Are you interested in computers? Do you love caring for people? Do you like to fix and repair things? Think about your answers and then compare them to a college's catalog (paying close attention to the associate degrees offered). You'll quickly realize there are usually several associate degrees offered in areas that interest you. For example, if you're great at hands-on work you'll see opportunities to study things like welding, manufacturing, auto repair and much more.
Break down your greatest strengths. Are you good with numbers? Do you love writing and language? Do you enjoy solving problems? Then take it one step further. For example, if you like math, consider how you like using your math skills. Do you enjoy building things? Do you like to keep track of numbers, details and changes? Answers to questions like these might help you decide on an associate degree in engineering versus accounting.
What Are Your Larger Career Goals?
Once you've spent time outlining your interests — and seeing what associate degrees match them — you want to think carefully about careers. Here are some important things to consider:
Will jobs be hard or easy to find with your degree and skills?
What will the job market look like in the future? It's wise to use resources like the U.S. Bureau of Labor Statistics' Occupational Outlook Handbook to help you answer that question.
What's the best pathway to an advanced degree (for those interested in going beyond an associate degree)?
Can a career in this field support me and my family?
Work Closely with Advisors
With so many things to consider, you might feel overwhelmed. One of the best resources for advice and guidance is an advisor.
They know what it takes to get the associate degree you're after — and this will save you time, money and headaches. Make sure to meet with an advisor early on and don't hesitate to prepare for your visit with a list of questions.
Advisors can also guide you to certificates that might be right for you if an associate degree isn't.
Find Your Focus at CCC!
If you're looking for an associate degree and/or career you want to pursue, Clackamas Community College can help!
We've built Educational Focus Areas (EFAs) to help you learn more about programs of study and associate degrees offered at CCC. This is the perfect tool to explore degree and career pathways — empowering you to make informed decisions about your future. Learn more below.