Why Earn an Associate Degree in Computer Science?
Jul 6, 2020, 07:56 AM by CCC Staff
Learn about the benefits of earning your associate degree in computer science.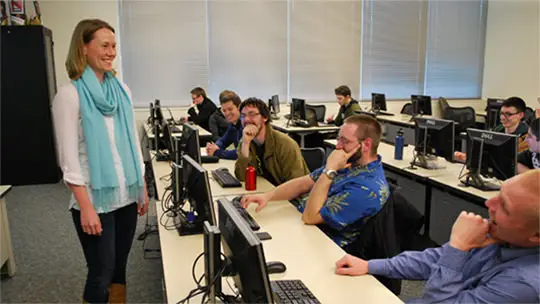 Earning an associate degree in computer science is a great way for you to learn foundational principles of programming languages, software design, algorithms and data structures.
Computer science careers continue to be some of the fastest-growing occupations in the United States. If your long-term goal is, for example, to become a software developer, systems analyst or network architect, the U.S. Bureau of Labor Statistics expects each of these jobs (and many others) to increase by as much as 21% from 2018 to 2028. Software developers alone are expected to add more than a quarter-million jobs to the economy by 2028.
An Associate of Science in Computer Science is an affordable and resourceful way to start your educational journey toward earning a Bachelor of Science in Computer Science — which will open the door to innovative, high paying and flourishing careers.
Computer Science Associate Degree Overview
Associate degrees in computer science bring together both the theoretical and the practical, allowing you to solve challenging problems with creative solutions. You don't simply learn about new tools and techniques — you learn a new way of thinking.
While programs differ from institution to institution, here are some high-level things you can expect to learn from an Associate of Science (AS) Degree in Computer Science:
Skills and Learning Outcomes
Explain the software development life cycle, including tools and processes involved in software creation.
Demonstrate how data is stored and manipulated.
Solve technical problems with mathematical and computing techniques.
Learn structured and object-oriented design.
Transfer Option
Many associate degrees in computer science are designed to prepare you for further education. You'll complete the freshman and sophomore coursework needed to earn a Bachelor of Science in Computer Science. By finishing the first two years of coursework for the BS degree at a community college, you can transfer to a four-year university and begin upper-division courses. This is a smart way to earn a degree on time and for far less money.
Coursework and Credits
Computer science programs at the associate's level offer hands-on learning experiences over the course of two years. The minimum credit requirements differ from institution to institution.
Getting a Computer Science Associate Degree Online
Whether you take courses on campus or learn online, you'll get a great education. Computer science curriculums are well-suited for online learning environments as instructors typically leverage digital tools to facilitate lessons, student collaboration and communication. This means online students enjoy many of the same benefits as their peers taking in-person courses.
Distance learning students can also take courses that work well with their obligations outside of the classroom, earning a degree in alignment with their schedules and needs.
Why Study Computer Science at CCC?
CS Degree Options in the Portland Metro Area
If you live near Portland, Oregon, you'll learn Clackamas Community College is the only community college in the metro area where you can complete an associate degree in computer science. Other institutions in the area either don't offer the degree or require you to jointly attend other institutions like CCC to take computer science courses.
The CCC Experience
By studying computer science at CCC you'll have access to an all-inclusive experience. You can continue to learn from the same dedicated instructors — with years of industry experience and a passion for hands-on learning. This means on-going mentorship and personalized learning is at your fingertips!
Computer Science Courses Offered
When it comes to courses, you can pick from dozens of computer science offerings ranging from HTML & Web Site Design to Introduction to JavaScript to Linux for Programmers.
The Smart, Affordable Choice
CCC is the most affordable community college in the Portland metro area. You can earn a transfer degree that will save you money. Even if you don't decide to earn the Computer Science AS degree, you can still take computer science courses at CCC and then continue your education at a four-year university.
Learn More
By studying Computer Science at Clackamas Community College you'll begin learning foundational skills you can continue to build on. Help prepare yourself for a bachelor's degree and beyond — and the ability to do exciting things like analyze data, develop artificial intelligence, create video games or fight cybercrime.