CCC Virtual Concert Hits the High Notes
Mar 4, 2021, 15:29 PM by CCC Staff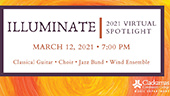 OREGON CITY – Clackamas Community College music students have been perfecting their pitch and tuning their instruments to bring viewers a virtual spotlight concert series. The winter concert premieres live March 12, 7 p.m. at CCC's Facebook webpage and CCC's YouTube webpage.
The Illuminate Virtual Spotlight brings audiences full ensemble pieces created entirely from a distance. This end-of-term event includes performances by the chamber choir, wind ensemble and classical guitar ensemble. Music students will share an eclectic collection of choral, jazz, classical and electronic tunes that will bring music to listeners' ears.
Tune in for a concert teaser at Winter 2021 Virtual Concert on YouTube. For more information about the virtual spotlight concert series, contact Ami Collofello at ami.collofello@clackamas.edu. For more information about music events at CCC, visit CCC's Music Events webpage.