Art exhibit, menagerie, opens at CCC Nov. 6
Nov 3, 2023, 14:52 PM by CCC Staff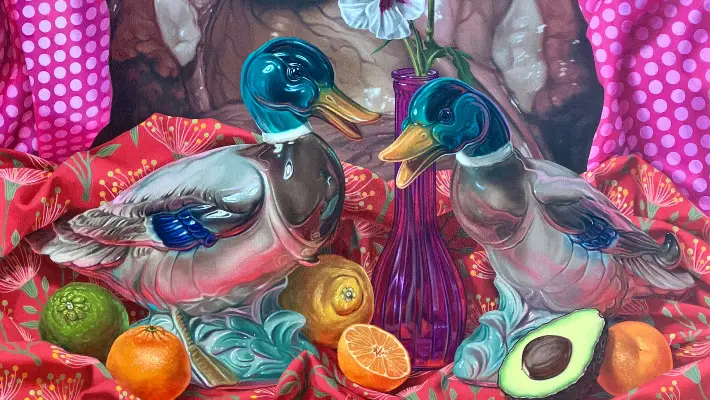 OREGON CITY – The Alexander Gallery presents "menagerie," an exhibition of paintings by Rachel Kalman and photographs by Grace Weston. This exhibition opens Nov. 6 and runs through Dec. 1. An artist reception will be held Thursday, Nov. 16 and the artists will speak about their work at 1 p.m.
In "menagerie" Kalman and Weston both work from arrangements of meticulously staged objects to create narrative compositions. Kalman's still life paintings juxtapose decorative, kitsch aesthetics with difficult, often traumatic, realities. Weston's photographs showcase miniature scenes from characters and props that explore the human psyche, power dynamics, gender roles and more with a playful overtone.
Kalman and Weston are both Portland-based artists who have shown their work throughout the United States. Kalman's work has been supported by a SECA Art Award nomination from the San Francisco Museum of Modern Art, and Weston's work was recognized as first place winner at the Tokyo International Foto Awards.
The Alexander Gallery is located in the Niemeyer Center on the Oregon City campus, 19600 Molalla Ave., and is open Monday-Friday, 9 a.m.-5 p.m., with the exception of campus holidays.
This exhibition is free and open to the public. For questions, contact Kate Simmons at 503-594-3032 or kates@clackamas.edu. For more information on Clackamas Community College's art exhibits and performances, visit www.clackamas.edu/art.