Enjoy a Concert at CCC
Feb 27, 2020, 15:33 PM by CCC Staff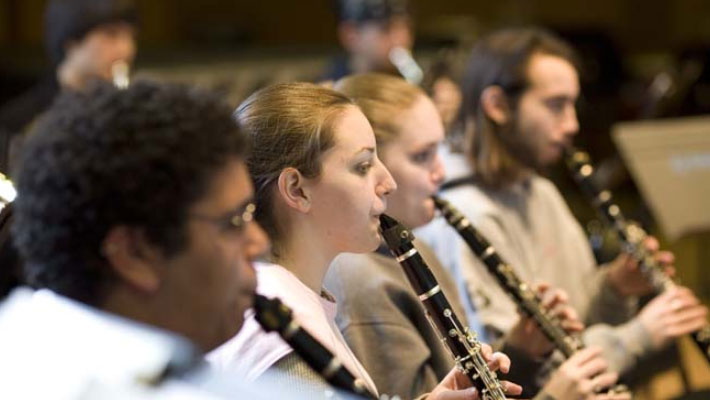 OREGON CITY - The talented students in the Clackamas Community College Music Department will bring music to your ears during its winter concert series. From jazz to choral to acoustic, there's a performance for all tastes. End winter on a high note by attending one or more concerts. Unless otherwise noted, all performances are at the Niemeyer Osterman Theatre, 19600 Molalla Ave., Oregon City and open to the public.
Instrumental Music Concert
March 9, 7:30 p.m.
The classical Guitar Ensemble will open the evening followed by the Wind Ensemble, Jazz Combo, and Jazz Band in this winter concert series. Admission: $5.
Wind Ensemble
March 10, 5 p.m.
The 16th annual Concert Band Contest brings local high school bands to CCC for a day of competition. Catch an encore performance by the CCC Wind Ensemble after the competition concludes. Admission: free.
Mainstream Choir (CANCELED)

March 12, 5:15 p.m.
CCC's 37th annual Vocal Jazz Festival hosts 19 of the area's most talented middle and high school jazz choirs for a full day of competition, 9 a.m.-9 p.m. The CCC Mainstream Choir performance begins at 5:15 p.m. Admission: $10.
Jazz Ensemble (CANCELED)

March 13 and 14, 9 p.m.
The 49th annual Instrumental Jazz Festival brings nearly 50 competitive middle and high school bands to CCC for two full days of jazz music. CCC's Jazz Band closes out both nights of competition with a late evening concert. The competition is 9 a.m.-9 p.m. Admission: $5.
Contemporary Music Ensemble and Singer/Songwriter Concert (CLOSED TO THE PUBLIC)

March 18, 7:30 p.m.
Singer/songwriter students premiere their original music, followed by the Contemporary Music Ensemble's renditions of rock and pop tune favorites. Admission: $5.
Youth Acoustic Concert (CLOSED TO THE PUBLIC)
March 20, 4-6 p.m.
The Youth Acoustic Concert series is an opportunity for pre-college musicians to hone their performance skills. Featuring both vocalists and instrumentalists, this concert focuses on classical music performed acoustically. Students may register to perform at clackamasmusic.eventbrite.com.
For more information about any of these events, contact Ami Collofello at ami.collofello@clackamas.edu. See a complete listing of upcoming music performances at www.clackamas.edu/music-events.