CCC to Break Ground on Welcome Center
Mar 2, 2020, 09:06 AM by CCC Staff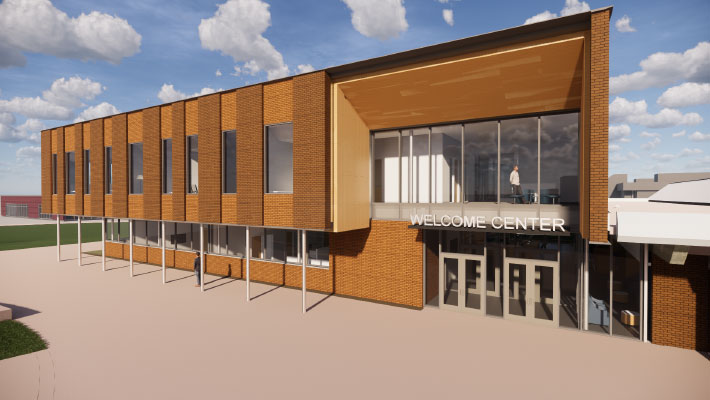 UPDATE: Due to new recommendations from the governor's office and the HECC, we are closing tomorrow's Welcome Center groundbreaking to spectators. We will still hold the program and record it to share it with the college community. Though we are disappointed to not share the start of our final bond project with the community in person, the community will be invited to the grand opening next year.
OREGON CITY - Clackamas Community College will break ground on its new Welcome Center on March 13 at 4 p.m. on the Oregon City campus. This building will house the college's student support services and will serve as the "front door" of the college.
The Welcome Center will house the following services: advising, counseling, education partnerships, financial aid, registration, testing and placement services, and a welcome desk. The college is intentionally creating a space where students can have most of their questions answered in one sitting rather than moving to different offices or between buildings.
The college is also remodeling the existing Bill Brod Community Center to provide a facelift for admissions, student government, career center, disability resource center, multicultural center, and the veterans center. The improved community center will create better study spaces for students as well as easy access to the Cougar Café.
The 21,000-square-foot Welcome Center will be completed in the spring of 2021 with the community center refresh being conducted during summer, and total completion fall 2021. Project cost is estimated at $15.7 million.
"The Welcome Center will change the way we serve students here at CCC," Tara Sprehe, dean of Academic Foundations and Connections, said. "We know that students currently must navigate between places to have their questions answered. And we know there is not enough access to study spaces or opportunities to easily collaborate and connect with students, faculty, and staff. We hope these construction projects will solve these problems for students."
The community is invited to join the groundbreaking, which is the last of the college's bond projects. In November 2014, voters in the Clackamas Community College district approved a $90-million bond measure that has been used to update and expand college classrooms and labs and modernize equipment to meet industry standards. Passage of the bond also results in CCC receiving $32 million in state matching funds.
Clackamas Community College is located at 19600 Molalla Ave., Oregon City. For more information about the college's bond projects, visit www.clackamas.edu/bondinformation.