CCC President Goes the Distance, Runs Gratitude Marathon on Campus
Apr 22, 2020, 15:47 PM by CCC Staff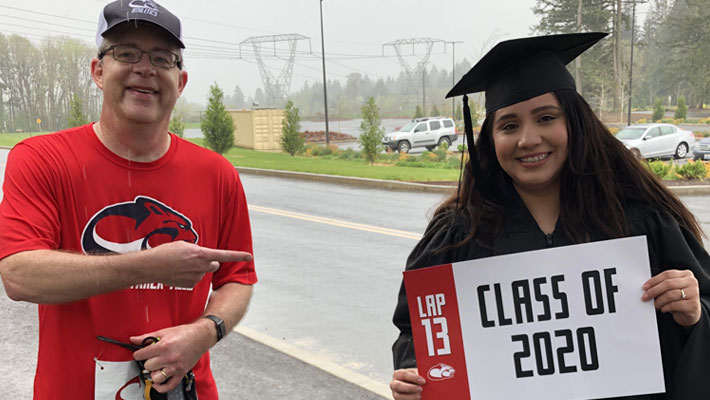 OREGON CITY - Clackamas Community College President Tim Cook is a long distance runner with the goal of running a marathon in every state. This month, he was set to run marathons in Michigan and Wisconsin. However, like many things amidst COVID-19, they were canceled.
Already trained and ready to run, Cook decided to make use of the quiet Oregon City CCC campus and run a marathon of one on April 18. It takes 13 laps around the college's 165 acres to make up the 26.2 miles of a marathon. Thinking of the sacrifices many are making right now, Cook dedicated each lap to a different sector of the community and the work being done to slow the spread of COVID-19.
His laps were dedicated to the following:
Lap 1 - Health care workers
Lap 2 - First responders
Lap 3 - Current CCC students
Lap 4 - CCC Foundation and donors
Lap 5 - College faculty
Lap 6 - Cougie (the college's mascot)
Lap 7 - K-12 educators
Lap 8 - Business partners
Lap 9 - College staff
Lap 10 - Parents homeschooling children
Lap 11 - Everyone physically distancing
Lap 12 - CCC Alumni
Lap 13 - CCC Class of 2020
Before starting the final lap, Cook said, "Class of 2020 students, this isn't the graduation you wanted or expected, but we really want to shout out to you and congratulate you for your marathon, getting it done, and becoming a member of the Cougar nation. Way to go, Class of 2020! Go, Cougs."
At the finish line, with Associated Student Government President Ashley Magaña donned in a cap and gown at his side (at a safe distance), Cook said, "We are all in this together. We will be back together when it is safe to do so."
With the April 18 marathon in the books, Cook has completed 34 marathons in 22 states.
The Clackamas Community College Foundation has created a COVID-19 Relief Fund with the goal of raising $200,000 for students and programs impacted by the new coronavirus. The funds are being used to provide internet connection, computers, tuition and fees, and classroom materials to ensure education is accessible to all students. To donate, visit CCC's Foundation's COVID-19 webpage. Checks may be mailed to the CCC Foundation at 19600 Molalla Ave., Oregon City, OR 97045 with "Covid Relief" in the memo.