CCC Offers Free CNC Machine Operator Course
Dec 11, 2020, 13:00 PM by CCC Staff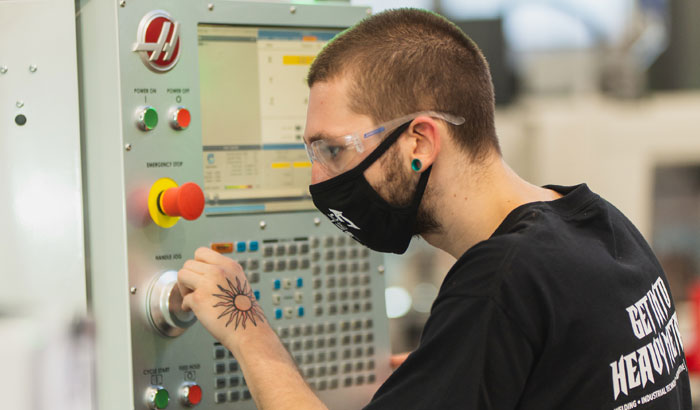 OREGON CITY – Clackamas Community College is hosting information sessions on its free 11-week CNC machine operator training course.
This hybrid class starts Jan. 4 and is sponsored by TechHire Clackamas. The class will meet in person three days a week on Monday, Wednesday and Friday, and online Tuesday and Thursday.
TechHire is a U.S. Department of Labor grant to help young adults age 17 to 29 acquire education and training to qualify for high-demand jobs in advanced manufacturing, technology and healthcare.
Candidates who successfully complete the 11-week CNC Machine Operator training will be considered for hire as a machinist/CNC operator with some of the best local companies in the area. Machinists and CNC operators earn $16-20 an hour.
"In just in 11 weeks, our students learn the skills they need to get in-demand jobs with livable wages," Tom Brown, CCC program outreach coordinator, said.
Candidates will be connected with employment training, paid internships, career coaching, job preparation support and other resources. Upon completion, participants will have industry knowledge about the following key concepts: basic competency in common machine tools, CNC operations, blueprint reading, shop safety and math, inspection and quality control.
To be considered for this training, participants must attend an online TechHire information session and complete eligibility screening for TechHire. To get an invitation to attend a CNC operator information session, email techhire@clackamas.edu.
Information sessions will be:
Dec. 15 at 1 p.m.
Dec. 21 at 3 p.m.
Questions? Contact techhire@clackamas.edu. For more information about TechHire, visit www.clackamas.edu/techhire.