CCC Offers Free CNC Machine Operator Course
Feb 25, 2021, 08:58 AM by CCC Staff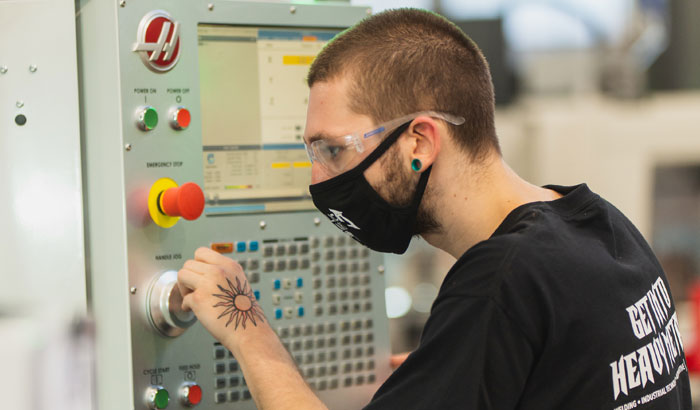 OREGON CITY – Clackamas Community College is hosting information sessions on its free 11-week CNC machine operator training course.
This hybrid class starts March 29 and is sponsored by TechHire Clackamas. The class will meet in person three days a week on Monday, Wednesday and Friday, and online Tuesday and Thursday.
TechHire is a U.S. Department of Labor grant to help young adults age 17 to 29 acquire education and training to qualify for high-demand jobs in advanced manufacturing, technology and healthcare.
"In just 11 weeks, our students learn the skills they need to get in-demand jobs with livable wages," Tom Brown, CCC program outreach coordinator, said. "If you are looking to start a new career or are tired of jobs that offer no growth, then consider applying for this free training."
Candidates who successfully complete the 11-week CNC Machine Operator training will be considered for hire as a machinist/CNC operator with some of the best local companies in the area. Candidates will be connected with employment training, career coaching, job preparation support and other resources. Entry-level machinists and CNC operators earn $16-20 an hour.
To be considered for this training, participants must attend an online TechHire information session and complete eligibility screening for TechHire and/or Job Corps Scholars. The Job Corps Scholars Program is a U.S. Department of Labor demonstration project that provides Job Corps-eligible youth age 16-24 the opportunity to enroll in a career technical training program to learn in-demand job skills at accredited public colleges.
Virtual CNC operator information sessions
Questions? Contact techhire@clackamas.edu. For more information about TechHire, visit CCC's TechHire webpage. To learn more about the Job Corps Scholars program, visit Clackamas Scholar's webpage.