CCC Receives Historic Donation
Mar 24, 2021, 09:41 AM by CCC Staff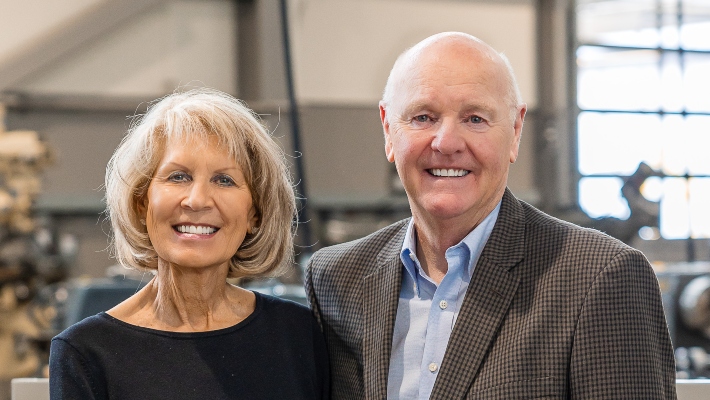 OREGON CITY – Clackamas Community College has received a historic $5 million gift from long-time career and technical education (CTE) advocates Terry and Cheryl Holden.
The Holdens' donation of cash and estate gifts will benefit CCC students, veterans and career technical education programs into the foreseeable future. To acknowledge this generous gift, the college will rename its Industrial Technology Center (ITC) to the Holden Industrial Technology Center.
As part of this pledge, the CCC Foundation is establishing the Holden CTE Capital Projects Fund, the first of its kind at the college, which will center on capital improvement projects and CTE initiatives. The gift will also provide scholarships for students in CTE programs, as well as funding to benefit veterans at CCC.
The Holdens have a long history and connection with Clackamas Community College and the surrounding community. Cheryl Holden grew up in Estacada and Terry Holden in Molalla.
When Terry Holden graduated from Molalla High School he received a scholarship, which had a huge impact on him and made college accessible. Because that gift changed his life, he believes in paying it forward.
"Until then, I was still undecided in which direction I should follow," Terry Holden said. "A generous scholarship gave me a clear path and made my decision easy."
Terry Holden still recalls that time in his life, and how receiving that scholarship gave him a deeper understanding of the importance of education. He said he knew one day he would create a scholarship of his own.
In 2016, Terry Holden achieved that goal by establishing the CCC Holden Scholarship Promise, which benefits students from their hometowns of Molalla and Estacada as well as Colton. Since its inception, this scholarship has been awarded to 40 students.
"The Holdens have supported many worthy causes, but career technical education has always been at the top of their list," CCC President Dr. Tim Cook said. "Their affinity for affordable education and their deep love of their hometowns makes this gift to the college especially meaningful. Students for many years to come will benefit from their generosity."
Clackamas Community College will transition the ITC to the Holden Industrial Technology Center later this spring and summer. For more information about CCC scholarships, visit www.clackamas.edu/scholarships. For more information about the Industrial Technology Center, visit www.clackamas.edu/bondinformation.