Cougars Wrestling Three-Peat National Champions
Apr 29, 2021, 16:40 PM by CCC Staff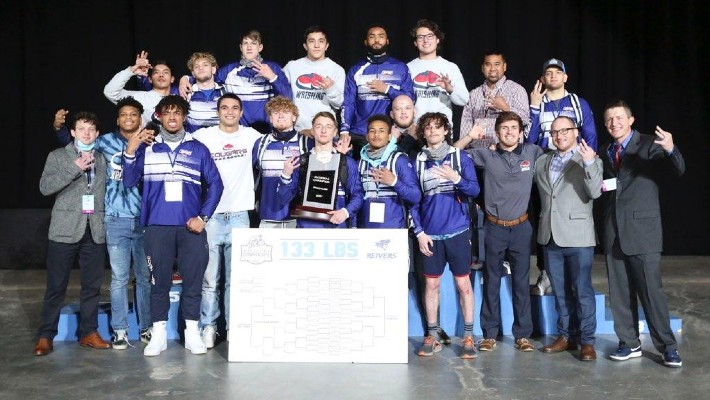 OREGON CITY – On April 23, the Clackamas Community College wrestling team won the National Junior College Athletic Association (NJCAA) National Championship for the third year in a row, outpacing second-place Western Wyoming by just 5.5 points.
"In a year that was anything but common, our team did something that was uncommon. They fought through adversity, they worked hard and remained focused all year with much of this year in doubt. Our coaching staff is supremely proud of these young men," CCC wrestling head coach Josh Rhoden said.
The team race was an exciting one to follow with the championship in doubt until the final round of the event where CCC's 133-pound Zeth Brower earned a fall, which not only secured his own individual national championship but propelled Clackamas ahead of Western Wyoming.
CCC individual results
Zeth Brower (133 lb) national champion
Cameron Enriquez (125 lb) national runner-up
Marckis Branford (141 lb) 3rd
Deville Dentis (149 lb) 3rd
Dax Bennett (174 lb) 3rd
Tarik Sutkovic (197 lb) 3rd
Mike Gasper (184 lb) 5th
Trent Silva (157 lb) 5th
Kyle Richards (285 lb) round of 12
Jake Richardson (165 lb) round of 12
Top five team scores
Clackamas 152.5
Western Wyoming 147
Iowa Central 129
Pratt 126.5
Northeastern Oklahoma 125
"Our guys wrestled so inspired, selfless and hard. That is a very hard mentality to beat even though at times it felt like us against the world. These guys remained present and in the moment. I'm so proud of these young men," Rhoden said.
The win secured the Cougars' third national championship in a row, the program's fifth championship overall with four of those won during Rhoden's tenure. The three-peat makes them one of only four other teams in the history of the NJCAA to achieve the feat.