CCC Offers New Accelerated Machine Tool Technology Degree
Nov 15, 2021, 11:07 AM by CCC Staff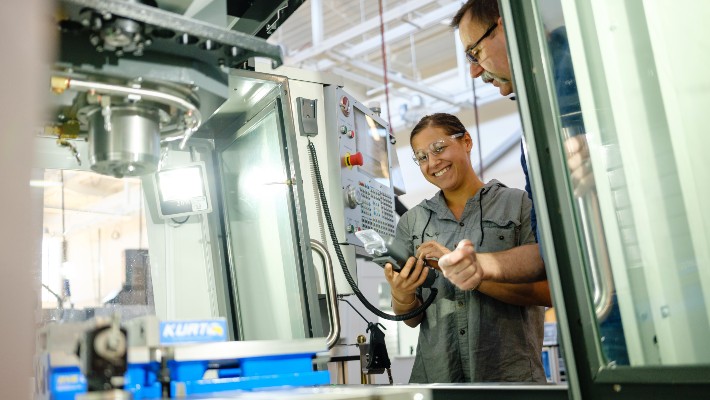 OREGON CITY – Clackamas Community College is offering a new accelerated degree in machine tool technology starting winter term. With convenient evening classes, students can get career ready in just 18 months.
The college's machine tool technology program has undergone a significant program redesign that centers on increased attention to CNC machining. The introductory CNC course is now offered in the first term, and the focus is on how to set up and operate CNC lathes and mills.
"We realized that students are often only able to stay in the program for one or two terms before life and work pressures pull them away," Industrial Technology Instructor Mike Mattson said. "We want everyone to leave this program with the basic machine operation skills employers need."
In this program, students will earn a CNC Operator Certificate in the first term as they work toward the associate of applied science degree. Over the last four years, the college has helped approximately 200 students with this credential get living-wage jobs.
During the first year of the program, students take a traditional machining course and a CNC machining course each of the three terms. Students will learn machining processes through multiple modes and technologies. The new program introduces six new courses, which focus on multi-axis machining, advanced programming and lean manufacturing.
"We believe this accelerated program will lead to a faster pathway to employment due to an early focus on CNC machining, and substantially reduced cost through efficiency," Mattson said.
Students completing this program will be qualified in careers such as machinist, toolmaker, CNC programmer/operator and CAD/CAM technicians, with typical salaries ranging from $36,000 to $74,000 annually.
Apply now! Winter term registration opens Nov. 15 and classes start Jan. 3. Visit www.clackamas.edu/gettingstarted to apply. To learn more, visit www.clackamas.edu/machine-tool-technology-aas. For questions, email mattsonm@clackamas.edu.