Cougars Wrestling Wins Fourth Consecutive National Championship
Mar 8, 2022, 09:54 AM by CCC Staff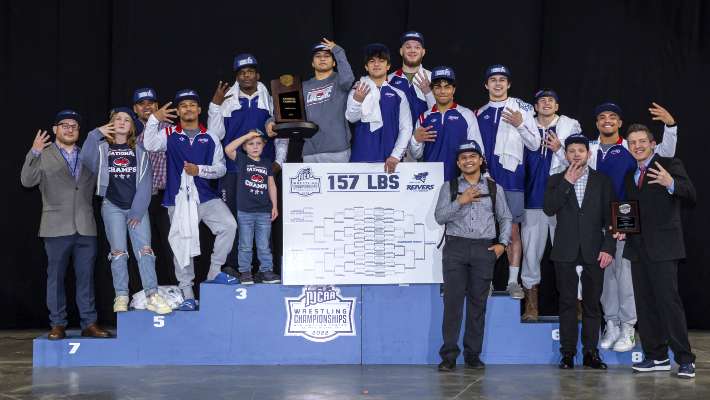 OREGON CITY – On March 5, the Clackamas Community College wrestling team won the National Junior College Athletic Association (NJCAA) National Championship for the fourth consecutive year, outpacing Iowa Central by 9.5 points in the team race.
"This was a very remarkable group of young men who came together to achieve something very exceptional. They believed in their training, each other and trusted the process, which I think is why we saw some of our best wrestling at the end of the year," CCC Wrestling Head Coach Josh Rhoden said.
The team race was an exciting one to follow with four Cougars in the championship final and one win needed to prevent a comeback from Iowa Central. CCC's 157-pound Alex Ramirez not only secured his own individual national championship, but the team championship.
CCC individual results
Alex Ramirez (157 lb) national champion
Justin Mejia (133 lb) national runner-up
Marckis Branford (141 lb) national runner-up
Steele Starren (165 lb) national runner-up
Victor Jacinto (149 lb) 3rd
Nicolas Aguilar (125 lb) 4th
Michael Gasper (197 lb) 5th
Trent Silva (174 lb) 6th
Kyle Richards (285 lb) 6th
Romeo Manue (184 lb) 2-2
Top five team scores
Clackamas 136.5
Iowa Central 127
Northeastern Oklahoma 118
Western Wyoming 116.5
North Iowa Area 109
"Our coaches did a great job preparing this team, and I want to thank them for their time and effort. This team was inspired, selfless and hard-working and that reflects the coaching staff," Rhoden said.
The win marks the Cougars' fourth national championship in a row, the program's sixth championship overall and the fifth during Rhoden's tenure.