CCC Offers Free Summer Camps
Mar 30, 2022, 16:59 PM by CCC Staff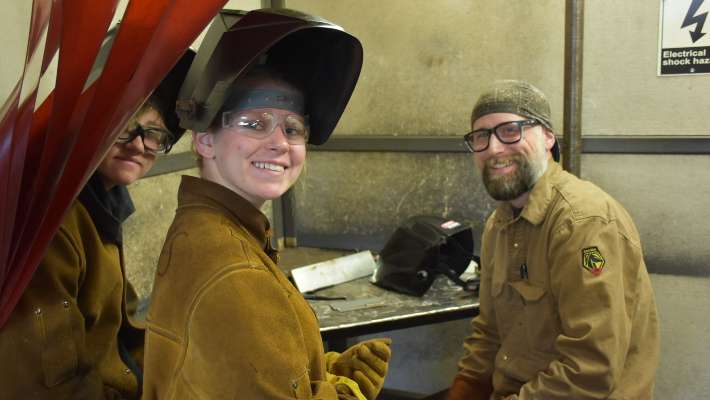 OREGON CITY – Students attending high school in 2022 can get a jumpstart on their college degrees through Clackamas Community College's summer camp programs – tuition-free. CCC is offering Career Technical Education (CTE) camps and a Dental Professions Camp.
CTE camps
Aug. 15-19, 9 a.m.-3 p.m.
Earn college credit in one of CCC's exciting and fun CTE camps! The CTE summer camps are open to Clackamas County students who will be entering ninth through 12th grade in fall 2022. Lunch will be provided, and transportation assistance is available from the student's high school to the college. The deadline to register is June 10. The free CTE camps include:
Website Design – Learn how to design and create web pages, including an introduction to JavaScript, graphics and animation.
Welding – Introduction and exploration of welding techniques in a hands-on class.
Music and Film – Learn how to design, shoot, record audio and post-production of movies.
Invention – Discover the art of invention through hands-on activities using laser cutters and 3D printers.
Horticulture: Kitchen Herbs – Learn how to prepare and use common kitchen herbs in a variety of edible forms.
Horticulture – Gardening and Farming: Develop and learn the principles and best practices of organic fruit and vegetable gardening.
Medical Assistant – Learn about the skills and attributes of a successful medical assistant while exploring patient-centered health care careers.
"Students who enroll in the summer camp programs will accelerate their college education while saving both time and money," Ni'Cole Sims, CCC director of education partnerships, said.
All CTE summer camps except for Medical Assistant will be held on the Oregon City campus of Clackamas Community College. The Medical Assistant Camp will be held on the Harmony Campus in Milwaukie.
Dental Professions Summer Camp
May 2-14 or June 18-23, times vary
Students interested in a career in the dental field can kickstart their education in the virtual Dental Professions Camp! This summer camp is open to Clackamas County students who will be completing ninth through 12th grade in spring 2022. Students who successfully complete the camp receive a $5,000 scholarship to be used toward health sciences programs. The deadline to register is April 15.
Camp features include:
Virtual field trips/tours – dental lab, independent hygienist practice, humanitarian organization
Panel discussions – Learn about the employment outlook for dental professions with area dental employers
Hands-on activities and demos – Tooth-carving activities, oral cancer screening and more
Dental outreach – Learn about various volunteer opportunities at home and abroad
"I thought this program was very helpful and educational. It gave me a much better idea of what a future in dentistry would look like, and I especially enjoyed hearing from so many different guest speakers," a recent Dental Professionals Camp participant said.
Space is limited at all camps, and a weighted lottery will provide priority placement for systematically nondominant (students of color, students with disabilities, students with low socio-economic status and students with limited access to accelerated learning programs).
For more information about summer programs and how to register, visit www.clackamas.edu/summer-programs. For questions about CTE camps, email hsconnections@clackamas.edu. For questions about the dental camp, email dentalcamp@clackamas.edu.