'Stupid Ghost' opens at CCC Nov. 10
Oct 21, 2022, 14:53 PM by CCC Staff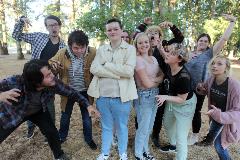 OREGON CITY – Clackamas Community College's Theatre Department will present the witty and charming play "Stupid Ghost" as its fall Main Stage Production.
The ghost lived in the woods, minding her own business and definitely not haunting anyone, until one day she saw a pretty girl and followed her home. It totally wasn't even a thing. The girl was probably not even going to notice. Savannah Reich's play "Stupid Ghost" is full of heart and at the same time dark and twisty, and it's about the desire to connect above all else, being unsure how to do so, and being willing to do absolutely whatever it takes to get what you want.
Directed by Jayne Stevens, "Stupid Ghost" features a dynamic ensemble of Clackamas Community College students, with scenic and lighting design by Chris Whitten, and costumes by Allie Schluchter.
"Stupid Ghost" runs Nov. 10-20, Thursdays and Fridays at 7:30 p.m., Saturdays and Sundays at 2:30 p.m., in the Niemeyer Osterman Theatre, 19600 Molalla Ave., Oregon City.
Tickets are $15 for adults, $13 for seniors (62+) and $6 for students (free for CCC students). Tickets are discounted by $1 if you purchase online. Visit or call for reservations.