CCC OFFERS WINTER EXPLORER KITS FOR CHILDREN
Nov 26, 2022, 13:30 PM by CCC Staff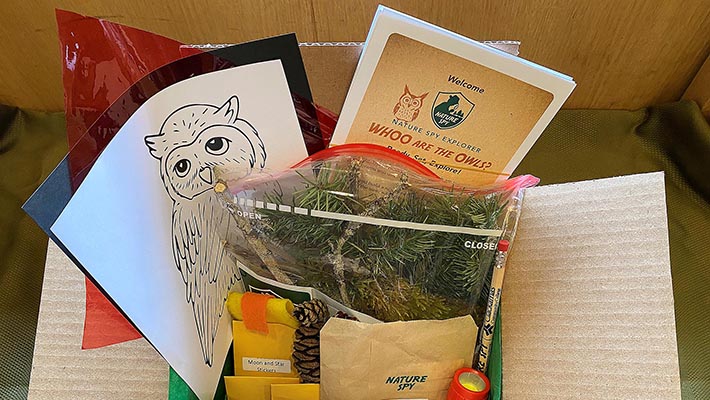 OREGON CITY - The Clackamas Community College Environmental Learning Center is once again offering its popular Nature Spy Explorer Kits. The kits are sent right to homes and have all the supplies a budding naturalist will need to learn, create and play.
This year's theme is Wild About Winter and the kits include engaging crafts, fun facts and playful activities to help children discover the natural world that surrounds them – from the comfort of home and neighborhood! Kits are designed for children ages 4-8, although older children enjoy them, too.
Each kit includes:
Easy-to-follow instructions
Materials for creating a nature-themed craft
Nature journal page with fun facts
Activities to keep children exploring all week long
A nature guide or storybook
There are three Wild About Winter Explorer Kits:
Nature Spy Tracker: Use air-dry clay and paints to make animal tracks. Make a track trap and see who's out and about in the neighborhood at night. Head outside to play tracking bingo. Use the journal page to reflect on wildlife signs in the neighborhood or park, and try to solve the track mystery. Kit ships Thursday, Dec. 1.
Mosses, Lichens, and Ferns, Oh My!: Design and build a terrarium of mosses, lichens and ferns. Record observations and get creative in inventing a new lichen species. Go on a scavenger hunt to find a variety of mosses, lichens and ferns in a local natural area. Kit ships Thursday, Dec. 8.
Whooo Are The Owls?: Build a nighttime forest scene with owls hiding in the trees and glow-in-the-dark moon and stars. Explore owl habitats, hiding places and signs of owls, and color an owl picture. Dissect an owl pellet and discover what the owl ate. Kit ships Thursday, Dec. 15.
Each kit is $35 and includes shipping. Kits are limited in supply.
Purchase a kit
For more information, contact Jill Sorber at jill.brown@clackamas.edu

About the Environmental Learning Center
The Environmental Learning Center has a rich history as an educational resource for Clackamas Community College, regional schools, industry and the community. Located on the former site of a Smucker's processing plant, the center was created to demonstrate what people could do to reclaim industrial sites, address stormwater issues and restore wildlife habitats in urban areas. Each year thousands of people visit to explore the 5-acre site and learn about watershed health. The site serves as an important stormwater facility for the college campus and provides critical wetland habitat for resident and migratory birds, such as the great blue heron, wood duck and merganser. For more information about the Environmental Learning Center, visit;www.clackamas.edu/ELC.