Decades of CCC News Now Searchable Online
Apr 5, 2023, 15:23 PM by CCC Staff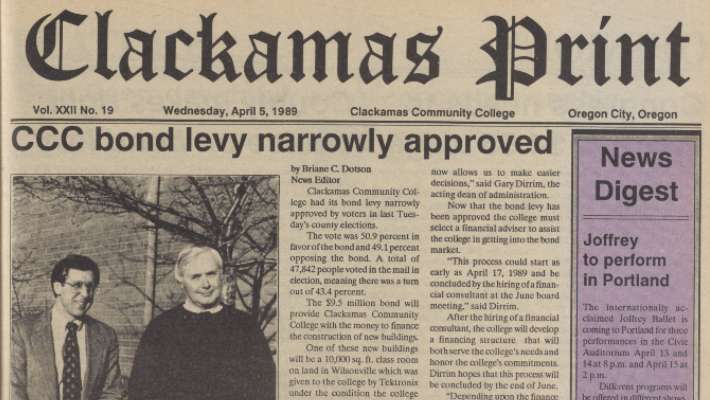 OREGON CITY - More than 40 years of Clackamas Community College student journalism is now searchable online.
Thousands of pages of The Clackamas Print newspaper have been digitized through the Historic Oregon Newspapers archive.
The public can access decades of college history reported by journalism students, who covered everything from Noble Prize-winning scientist Linus Pauling on campus, the filming of "Twilight" films in Oregon City and the now-defunct college football team.
"Our journalism students have covered the college like no one else," Melissa Jones, CCC journalism instructor, said. "Now anyone can search our older stories online, read the history and see the photos. We even had old movie ads for 'Star Wars' when it came out in the 1970s."
Prior to the digitization project, archived issues of the Print could only be viewed in person by flipping through bound volumes on the Oregon City campus.
The journalism program teamed up with the librarians at the University of Oregon and the UO's Oregon Digital Newspaper Program. The program, which includes historic newspapers from around the state, provides a full-text searchable database with access to more than 2 million pages of news, ads and photos from Oregon newspapers dated as far back as 1846.
"It's wonderful that CCC wanted to partner with us to include more Oregon college newspapers on our website, which is an area in our collection that we want to continue to expand," Sarah Beth Seymore, manager of the Oregon Digital Newspaper Program at UO Libraries, said.
The public can access the archive through The Clackamas Print's website, via the CCC library or through the Historic Oregon Newspapers site.
In the archive, The Clackamas Print is cataloged under three different names, as students have used different flags and names for the news organization over the decades. More recent print issues will be added to the archive in coming months.
The archive is cataloged as follows:
For more information about the archive, contact Melissa Jones at melissaj@clackamas.edu. For more information about the college's journalism program, visit CCC's Jounralism Department webpage.