Fall term hours

Most college services are available Monday through Friday throughout the fall term.

For a detailed list of current student services hours, including remote and in-person services, visit the Student Resources webpage.
Alexander Gallery
The Alexander Gallery gives students and the community a chance to experience contemporary works made by emerging and established regional artists. The 900-square-foot space is located in the Niemeyer Center on the Oregon City campus and features two rotating exhibits each term. Artists explore a variety of disciplines, including drawing, painting, photography, sculpture, digital media and installation. Each spring, the gallery showcases works made by CCC students in its annual Student Art Show.
During the school year, the Alexander Gallery is open Monday-Friday, 9 a.m.-5 p.m. During the summer, the gallery is open Monday-Thursday, 10 a.m.-3 p.m. Admission is free. For further information please contact Kate Simmons at 503-594-3032 or kates@clackamas.edu.
Current Exhibition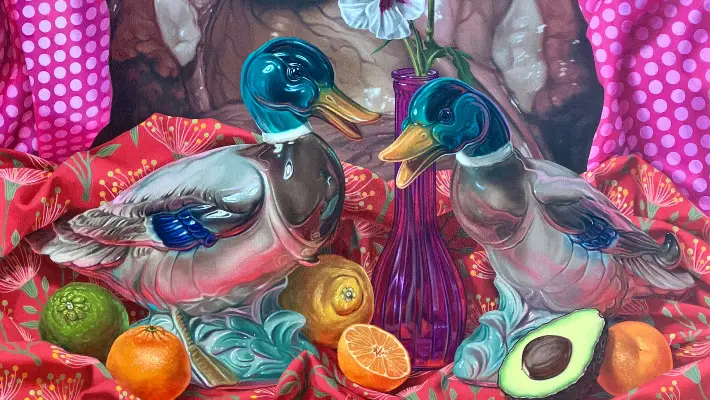 menagerie by Rachel Kalman and Grace Weston

Nov. 6-Dec. 1, 2023

The Alexander Gallery presents "menagerie," an exhibition of paintings by Rachel Kalman and photographs by Grace Weston. This exhibition opens Nov. 6 and runs through Dec. 1. An artist reception will be held Thursday, Nov. 16 and the artists will speak about their work at 1p.m. In "menagerie" Kalman and Weston both work from arrangements of meticulously staged objects to create narrative compositions. Kalman's still life paintings juxtapose decorative, kitsch aesthetics with difficult, often traumatic, realities. Weston's photographs showcase miniature scenes from characters and props that explore the human psyche, power dynamics, gender roles and more with a playful overtone.
Kalman and Weston are both Portland-based artists who have shown their work throughout the United States. Kalman's work has been supported by a SECA Art Award nomination from the San Francisco Museum of Modern Art, and Weston's work was recognized as first place winner at the Tokyo International Foto Awards. Join us in celebrating this work. The Alexander Gallery is located in the Niemeyer Center at Clackamas Community College. It is open Monday–Friday, 9 a.m.-5 p.m. with the exception of campus holidays. For further information about this exhibition, contact Kate Simmons at 503-594-3032 or kates@clackamas.edu.
Past Exhibitions
Paintings from the perspective of dog poet Pepper Meadows, Sept. 18, 2023
Landscapes and Surfaces, Aug. 7, 2023
Student Art Show, May 11, 2023

"they would prefer to be a cloud, fastened to the rock" by Sara Siestreem (Hanis Coos), April 3, 2023
"Desert Waterlines" by Clairissa Stephens, Feb. 13, 2023

"The Ordeal" by Henk Pander, Jan. 3, 2023

"Cosmic Tree" by Kanetaka Ikeda, Sept. 19, 2022
Student Art Show, May 11, 2022
"Braided River: Lower Willamette Speakers", March 28, 2022
"About Time", Jan. 3, 2022
Past Exhibitions and Artist Talks Alexander Gallery Floor Plan
Other galleries
As the center for cultural arts in Clackamas County, CCC wants you to experience art in a number of locations and on every campus. The Pauling Gallery on the Oregon City campus hosts experimental, student and community art shows, while the Harmony and Wilsonville campus galleries host quarterly exhibitions for a variety of artists.
Wilsonville Campus
No exhibitions are on display at this time.
Harmony Campus
No exhibitions are on display at this time.
Oregon City Campus
PAULING GALLERY

No exhibitions are on display at this time.