Notice of event cancellations on CCC campuses

CCC campuses are currently closed to the public through April 28. Based on recommendations and mandates from the state and the Higher Education Coordinating Commission in an effort to slow the spread of COVID-19, events on campus during this time period are canceled. For more information on our protective efforts, visit the Coronavirus (COVID-19) Notifications page.
Alexander Gallery
The Alexander Gallery gives students and the community a chance to experience contemporary works made by emerging and established regional artists. The 900-square-foot space is located in the Niemeyer Center on the Oregon City campus and features two rotating exhibits each term. Artists explore a variety of disciplines, including drawing, painting, photography, sculpture, digital media and installation. Each spring, the gallery showcases works made by CCC students in its annual Student Art Show.
During the school year, the Alexander Gallery is open Monday-Friday, 9 a.m.-5 p.m. During the summer, the gallery is open Monday-Thursday, 10 a.m.-3 p.m. Admission is free. For further information please contact Kate Simmons at 503-594-3032 or kates@clackamas.edu.
Current Exhibition
"Fun di Volt: From the Vault" by Ben Killen Rosenberg

Feb. 18-March 20, 2020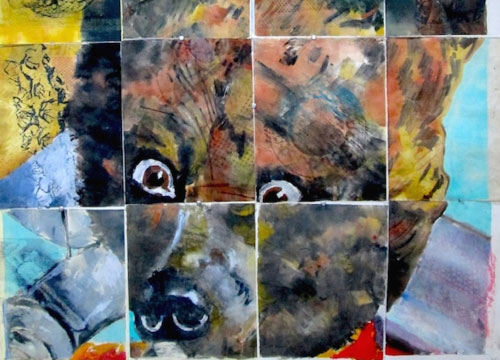 The Alexander Gallery is pleased to present "Fun di Volt: From the Vault," a collection of prints, paintings and drawings by Portland-based artist, Ben Killen Rosenberg. In this exhibition, Rosenberg uses inspiration from his home environment, such as his pets and collection of 1940s movie posters as inspiration to create larger compositions and constructions. An artist's reception will be held Wednesday, Feb. 26, from noon to 1:30 p.m. Rosenberg will speak about his work at 1 pm.
Ben Killen Rosenberg received his BFA in printmaking from the Tyler School of Art and an MFA from Portland State University. His work has been featured throughout Oregon in exhibition spaces including Augen Gallery, The Oregon Jewish Museum, PDX Gallery Projects Window and Atelier 6000 Print Studio and Gallery.

For further information about this exhibition, please contact Kate Simmons at 503-595-3032 or kates@clackamas.edu.
Past Exhibitions
"this is from that" by Tom O'Day | Jan. 6, 2020

"The Development of an Art Practice" by Justin Taylor | Nov. 25, 2019

"Simmer" by Kate Simmons | Oct. 9, 2019

Student Art Show | May 14, 2019
"On Our Watch" by Melanie Stevens | April 1, 2019

"The Effects of Unexplained Phenomena" by David Mylin | Feb. 11, 2019

Other galleries
As the center for cultural arts in Clackamas County, CCC wants you to experience art in a number of locations and on every campus. The Pauling Gallery on the Oregon City campus hosts experimental, student and community art shows, while the Harmony and Wilsonville campus galleries host quarterly exhibitions for a variety of artists.
Wilsonville Campus
No exhibitions are on display at this time.
Harmony Campus
No exhibitions are on display at this time.
Oregon City Campus
PAULING GALLERY

No exhibitions are on display at this time.