Art Galleries at CCC
Alexander Gallery
The Alexander Gallery gives students and the community a chance to experience contemporary works made by emerging and established regional artists. The 900-square-foot space is located in the Niemeyer Center on the Oregon City campus and features two rotating exhibits each term. Artists explore a variety of disciplines, including drawing, painting, photography, sculpture, digital media and installation. Each spring, the gallery showcases works made by CCC students in its annual Student Art Show.
During the school year, the Alexander Gallery is open Monday-Friday, 9 a.m.-5 p.m. During the summer, the gallery is open Monday-Thursday, 10 a.m.-3 p.m. Admission is free. For further information please contact Kate Simmons at 503-594-3032 or kates@clackamas.edu.
Current Exhibition
"Simmer" by Kate Simmons

Oct. 9 - Nov. 1, 2019
Artist talk Oct. 23 at 2 p.m.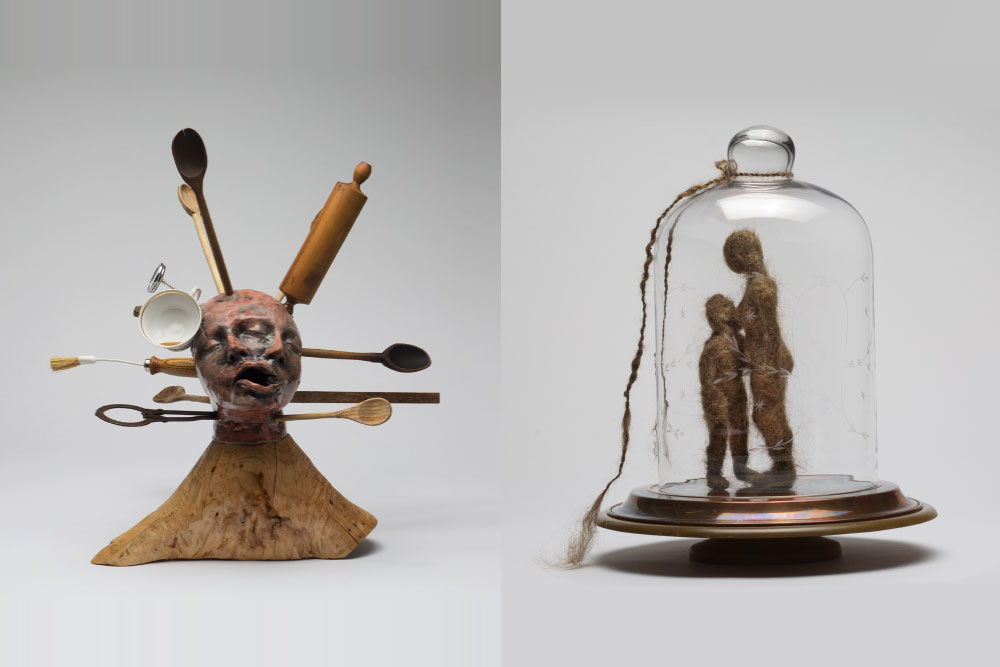 This exhibition samples over a decade of the career of Clackamas Community College instructor Kate Simmons. In "Simmer" the artist calls attention to the cyclical nature of childhood, memory and relationships from the perspective of a maternal lens. Through large scale installations and intimate works, these pieces address the figure in physical and metaphorical ways. The exhibition showcases approximately a dozen works constructed from materials including human hair, wool, antique objects, cast plaster, clay and printed material.
Kate Simmons received her BFA from Marylhurst University and MFA from Portland State University. Her work has been exhibited in regional galleries and museums, including Blackfish Gallery, Museum of Contemporary Craft and Maryhill Museum. Her work has been supported by the Regional Arts and Culture Council and Clackamas County Arts Alliance.
Past Exhibitions
Student Art Show | May 14, 2019
"On Our Watch" by Melanie Stevens | April 1, 2019

"The Effects of Unexplained Phenomena" by David Mylin | Feb. 11, 2019

"Birth Mark" by Matthew Dennison | Jan. 7, 2019

"Social. Art. Work." by Pippa Arend | Nov. 5, 2018q

"The Work of Leland John" | Sept. 17, 2018

"Viewpoints and Perspectives" | July 12, 2018
Other galleries
As the center for cultural arts in Clackamas County, CCC wants you to experience art in a number of locations and on every campus. The Pauling Gallery on the Oregon City campus hosts experimental, student and community art shows, while the Harmony and Wilsonville campus galleries host quarterly exhibitions for a variety of artists.
Wilsonville Campus
No exhibitions are on display at this time.
Harmony Campus
No exhibitions are on display at this time.
Oregon City Campus
Pauling Gallery
The Pauling Gallery is located in the Pauling Center, open Monday through Friday from 9 a.m. to 5 p.m. Admission is free. For further information about the Pauling Gallery, please contact Thomas Wasson at 503-594-3037 or tomw@clackamas.edu.