Getting Started at Clackamas Community College
Welcome to CCC! We're glad you're here. Clackamas Community College has an open-door general admission policy, which means if you want to earn your education through us, we're glad to have you.
Our team in the Admissions Center is here to help you get started. While CCC campuses are closed due to COVID-19, our Virtual Admissions Center is here to walk you through every step along the way from applying to CCC to paying for college and starting your first term. The following steps can be completed independently, but we encourage anyone who would like help to schedule your one-on-one admissions appointment today!
If you have attended CCC before, please visit our Academic Advising page.
To learn more about CCC's English for Speakers of Other Languages (ESOL) program, please visit our Academic Support page. For information about completing your GED or high school diploma at CCC, community education offerings, or if you are a student under 18 years old, visit our Academic Offerings page
---
Virtual Admissions Center
Our Virtual Admissions Center is here to help!
Questions?
Virtual admissions appointments
We can help you navigate your getting started steps including:
Applying for admission
Accessing your CCC email and other digital tools
Financial aid and scholarships
Submitting previous transcripts
Determining placement
Online orientation
Connecting with academic advisors for first term registration help
Referrals to support services
Appointments available over phone or Zoom video
Monday-Thursday, 10 a.m.-3 p.m.
Schedule a virtual admissions appointment
Meet the Admissions and Recruitment Team
Our Admissions Team is here for you! Click on any of the photos below to learn more about our team members, their interests and how to reach them.
The award-winning Veterans Education and Training (VET) center is known in the community as one of the best college resources for veterans and their families. Contact our Veterans Education and Training (VET) Center to learn how you can use your VA benefits and achieve your education and career goals.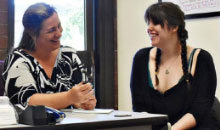 The Disability Resource Center (DRC) at CCC provides services to support student success by creating a welcoming, inclusive and accessible environment. The Disability Resource Center can help prospective students establish eligibility for accommodations and determine what kind of documentation is needed.
Virtual admissions center