CCC Theater Students Take on Shakespeare
Mar 11, 2021, 15:12 PM by CCC Staff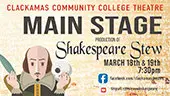 OREGON CITY – Clackamas Community College theater students are taking center stage to bring viewers virtual performances that are sure to be crowd-pleasers. The productions include a student performance showcase and a special "Zoom-stage" featuring a mashup of Shakespeare's most famous plays. Performances will be streamed live at CCC's Facebook webpage and CCC's YouTube webpage.
Student Performance Zoom-case
March 17, 7:30 p.m.
Watch one-act plays featuring standup comedy, student sonnets, improv sketches and a fun "Who's on First" variation.
Shakespeare Stew Zoom-stage Production
March 18 and 19, 7:30 p.m.
There are two chances to join the "Bardy Bunch" as students perform an "All About Shakespeare" winter Zoom-stage. Scenes and monologues will be mashed up and include "12th Night," "Julius Caesar," "Macbeth" and more.
For more information about any of these events, contact Jennifer Jett at jennifer.jett@clackamas.edu. For more information about the arts and upcoming performances at Clackamas Community College, visit CCC's Art and Performance webpage.