Explore the wonders of nature with Nature Spy kits
Jun 8, 2023, 11:35 AM by CCC Staff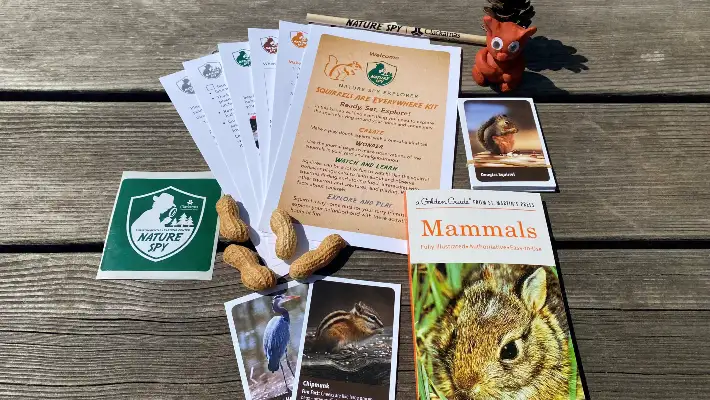 OREGON CITY - Clackamas Community College's Environmental Learning Center (ELC) is relaunching its popular summer Nature Spy Explorer Kits. These innovative kits are designed to ignite the curiosity and passion for nature in children, allowing them to explore, learn, create and play from the comfort of their own homes and neighborhoods.
The Nature Spy Explorer Kits are perfect for budding naturalists ages 4 to 8, although older children have also found them engaging and enjoyable. Each kit is packed with a range of supplies and activities that will immerse children in the wonders of the natural world. These kits provide an excellent opportunity for children to discover the beauty and diversity of the environment surrounding them.
Kits are $35 each, which includes shipping, and a limited number of scholarship kits are available for those who would benefit from financial assistance.
Each Nature Spy Explorer Kit contains all the essential elements to keep children entertained and inspired throughout the summer:
Easy-to-follow instructions
Materials for creating a nature-themed craft
Nature journal page filled with fun facts
Activities to encourage exploration all week long
A nature guide or storybook
Nature-themed memory card game
The Environmental Learning Center offers five different Summer Explorer Kits, each with its own theme and set of activities:
Bug Safari - ships July 20: Build a bug hotel, observe insect behavior and engage in exciting activities related to insects.
Squirrels Are Everywhere - ships July 27: Create a playdough squirrel with a unique tail, learn about squirrel behavior through outdoor games, and discover more about these furry wildlife neighbors.
What's Living in Your Soil? - ships Aug. 3: Dive into messy art with mud paint, set up a pitfall trap to catch critters, and explore the fascinating world of insects using the Insect Golden Guide.
Be a Bird Lookout - ships Aug. 10: Build a bird feeder, observe and identify different bird species using a checklist and bird guide, and enjoy hours of fun with bird-themed activities.
I Spy a Butterfly - ships Aug. 17: Construct a butterfly puddler, make seed balls for starting a butterfly garden, and use the butterfly guide to discover various butterfly species in your local area.
To purchase kits, visit Nature Spy Explorer Kits: Summer 2023 on Eventbrite. For more information, contact Jessie Mulcahy at jessie.mulcahy@clackamas.edu.
About the Environmental Learning Center
The Environmental Learning Center has a rich history as an educational resource for Clackamas Community College, regional schools, industry and the community. Located on the former site of a Smucker's processing plant, the center was created to demonstrate what people could do to reclaim industrial sites, address stormwater issues and restore wildlife habitats in urban areas. Each year thousands of people visit to explore the 5-acre site and learn about watershed health. The site serves as an important stormwater facility for the college campus and provides critical wetland habitat for resident and migratory birds, such as the great blue heron, wood duck and merganser. For more information about the Environmental Learning Center, visit CCC's Environmental Learning Center webpage.