CCC rocks on for year five of Metallica Scholars initiative
Aug 31, 2023, 15:49 PM by CCC Staff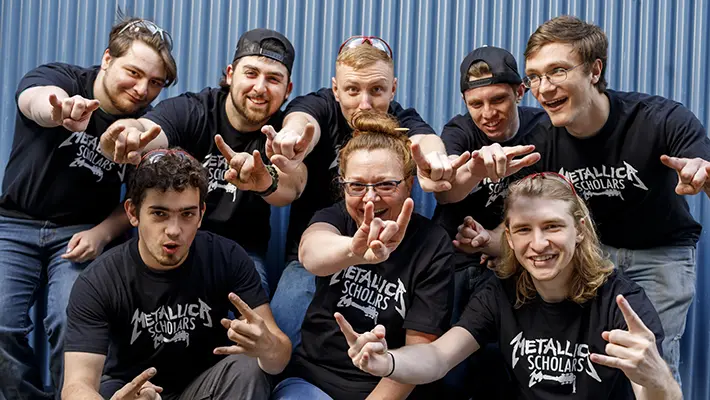 OREGON CITY — Metallica's foundation, All Within My Hands, continues its multimillion-dollar investment in critical workforce programs at community colleges nationwide. Among the schools, Clackamas Community College was invited to return for year five and will continue to receive Metallica Scholars funding to enhance career and technical education programs.
The Metallica Scholars initiative was launched in 2019 by All Within My Hands in partnership with the American Association of Community Colleges. The workforce initiative marks its fifth year with an ambitious expansion into new curricula. Metallica Scholars now directly supports 42 community colleges across 33 states, and by the end of this year, it will have helped more than 6,000 students pursuing careers in the trades. To date, Metallica and its foundation have invested over $6 million in the American workforce.
"The Metallica Scholars Initiative is so important to us because we are seeing results. Five years in, with the help of community colleges across the country, we are helping people fill these essential jobs which require skills and training. We are so proud and grateful that we can facilitate this program," Lars Ulrich of Metallica said.
Reaffirming a commitment to career and technical education at the local level, each new school brings incredible opportunities to a thriving and growing community.
"Clackamas Community College is honored to be part of Metallica Scholars. Through this partnership, we are providing essential skills and training to our students, preparing them for meaningful careers," CCC President Tim Cook said. "The Metallica Scholars program exemplifies the power of collaboration between education and industry, and we remain committed to ensuring the success of our students and the growth of our community."
What began with 10 colleges and mostly manufacturing programs has developed into a diverse offering of workforce opportunities for students interested in gaining the skills and training necessary to find meaningful and well-paying careers in fields and positions, including CCC's heavy metals programs like welding, industrial technology and automotive technology.
"The Metallica Scholars Initiative is a strong and cooperative assemblage of the nation's best community colleges, creating a supportive climate for participants to communicate directly and share best practices. As a result, our Metallica Scholars leave the program well-trained and confident. Ultimately, the impact is felt locally and nationally as Metallica Scholars enter the workforce and fill in-demand technical positions," said Peter Delgrosso, All Within My Hands executive director.
To learn more about Clackamas Community College's Metallica Scholars program, contact Britany Ellerbrook at Britany.ellerbrook@clackamas.edu or visit, www.clackamas.edu/heavy-metals.
ABOUT AMERICAN ASSOCIATION OF COMMUNITY COLLEGES
As the voice of the nation's community colleges, the American Association of Community Colleges leads, advocates, and advances the nation's community colleges. Uniquely American, community colleges deliver educational and economic opportunities for more than 10 million diverse students annually. Dedicated to access and success for all students, AACC's member colleges provide an on-ramp to degree attainment, skilled careers, and family-supporting wages. Located in Washington, DC, AACC advocates for these not-for-profit, public-serving institutions to ensure they have the resources and support to increase economic mobility for all.
ABOUT ALL WITHIN MY HANDS
All Within My Hands was established in 2017 by Metallica to invest in the people and places that have supported the band. It also allows Metallica's fans to engage in philanthropy and volunteerism. The Foundation is dedicated to creating sustainable communities through workforce education, the fight against hunger, and other critical local services. All expenses of the Foundation are covered by the band, the board, and a few special friends so that 100% of donations go to the organizations it supports. AWMH is a registered 501(c)3 non-profit organization.